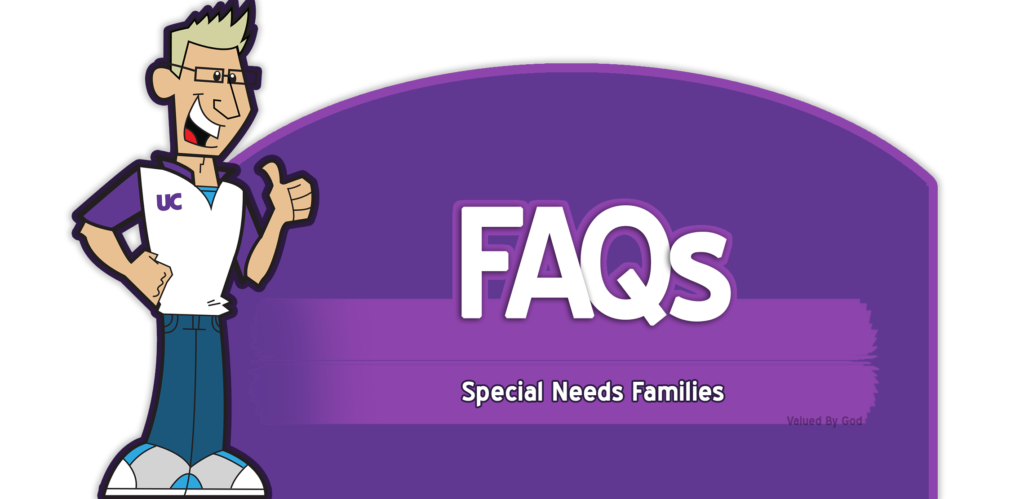 FAQ For Special Needs Famillies
Does it cost anything to get the VBG Library?
No. VBG is a ministry gift to special needs families because we realize you already have many other expenses in caring for your VIP's. You can subscribe for free on the GET VBG NOW page. Some families may wish to donate to our ministry if they are able to do so. Any donation, no matter how big or small, helps us sustain and expand the VBG Ministry in order to reach out and impact more and more Special Needs Families.
Is VBG mobile device compatible?
Yes, VBG is compatible with mobile devices such as iPad or iPhone. We recommend that users bookmark the VBG home page on all the devices they plan to use to they will always have quick, easy access. Users can also login to their channel using the VBG Login button on the menu bar of this web site.
Is VBG just for children?
There are some in our Special Needs Community who may be teenagers or adults in physical age, but may be dealing with intellectual disabilities. This channel is perfect for them as well, as they will love and relate to many elements of the channel – especially the music! I have personally tried and tested my material and music on many adults with Special Needs, and they have responded greatly!
Is VBG suitable for every form of special needs?
With so many various forms of special needs, it is virtually impossible to make VBG a "one-size, fits all" ministry. However, because there is such a wide variety of things to choose from, we believe there is something there for everybody – especially the music! The vast majority of those with special needs will thoroughly enjoy and be engaged with the channel. Some will enjoy specific elements of the channel more than others. Some of our more high-functioning VIP's will be able to navigate the channel on their own, while others will need the assistance of their parents or caretakers. Over time, as UC learns more about specific needs and how to best relate to those needs, he will be adding more and more content with that purpose in mind.
How often is new content added?
Monthly, sometimes even weekly. You will receive notices once a month telling you what new videos were added the previous month.
What if I didn't bookmark my VBG home page and forgot where to login?
Simply use the VBG Login link on the far right of the menu bar at the top of this web site. (Make sure to tell it to remember your password)
Does VBG have activity sheets to use with our VIP's?
We are currently working on creating and adding activity sheets and parent guides to selected videos in order to help parents and caretakers interact with their VIP's after viewing. All activity and coloring sheets are downloadable and printable. Parents will be notified as new activity sheets are added.
Most videos are in the 2-4 minute range, such as music videos, puppets, stories, etc. Some are shorter. We know that most attention spans are not that long, so we try to keep our messaging short and interesting. The show channel, on the other hand, is longer on purpose. Shows range anywhere from 12-18 minutes. That is so that the parent or caretaker can be freed up in case they have a chore to do or need to step away for a period of time. Also for that same purpose, we have created "Play All" buttons at the end of each music video album. They typically last about 40-45 minutes. We are working on"Play All" features on other channels as well.
Uncle Charlie has a ministry background of over 37 years. For 21 years he was a local church youth pastor in churches across Oklahoma and Texas. He then began a 15 year career as a kids worship recording artist/music missionary to kids. UC traveled the country and abroad leading kids camps, family concerts, and other events. He got his stage name, "Uncle Charlie", from a group of orphan children he was serving in Uganda, East Africa. In Uganda, children call all adults "Uncles and Aunties" as their term of respect for their elders. UC has recorded 10 albums in his 15-year career, and well over 100 songs! UC is currently retired for touring, and has re-directed his ministry to reach out to those with Special Needs and others who are fighting life's toughest battles. His music and worship tools can be found at: http://www.unclecharliestore.com.
How can I support the ministry?
I never want VBG to be a financial burden for any of our VIP Families. That's why I don't charge them to have the VBG Library.. Having said that, I realize there are also some VIP Families who believe in this ministry and have the desire and the means to contribute in some form or fashion so that others who need it can have it. If you have that desire and are financially able to contribute, simply go to the  Support Us page.  Thank you and may God bless you for your generosity!